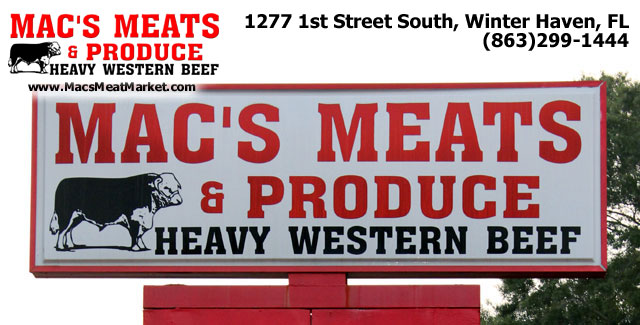 1277 1st Steet South, Winter Haven, FL, - Call (863) 299-1444
About Mac's Meats and Produce
Mac's Meats & Produce is the official meat supplier for the Swamp Boys BBQ Team & Catering. Swamp Boys BBQ Team was ranked #1 in the United States (out of 4,500+ Pro Teams) for 67 consecutive weeks and 2 Time Florida BBQ Association Team of the Year, 6 Time Florida BBQ Association Top 5 Team of the Year, and 1st Place Pork Shoulder at the Jack Daniel's World Championship Invitational.
Here's what Swamp Boys BBQ Team says about Mac's Meats:
"Greg & the rest of the McClelland family offer the best product, at the best price, with the best customer service. Tell them Swamp Boys BBQ sent you in."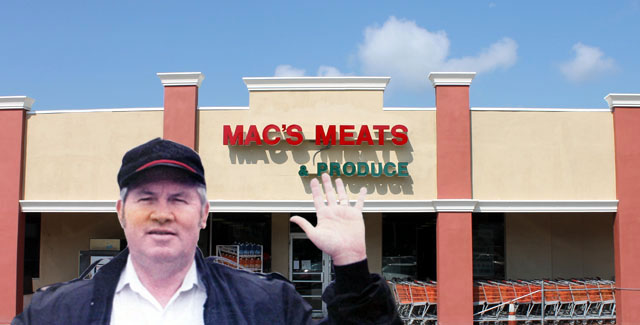 Our family at Mac's Meats & Fresh Produce would like to thank you for allowing us to serve you for the past 34 years!
Mac's Meats & Produce was founded in 1985 by John "Mac" (pictured above) and Audrey McClelland and their six "little Macs." Having the family together has allowed us to grow and have a family atmosphere that our customers enjoy.
Our Mother's prayer was "Lord, give me a way to feed my children and help feed others" this combined with our Father's expertise in meats and business has given Mac's Meats its firm foundation. Together they have had a strong love for God, family and friends. We think of our customers as part of that inner circle.
Whether we are servicing a world recognized competitive cooking team or customizing meats for you and those in your world, we consider it an honor and privilege for our family to help to feed yours!
Weekly Deals at Mac's Meat & Produce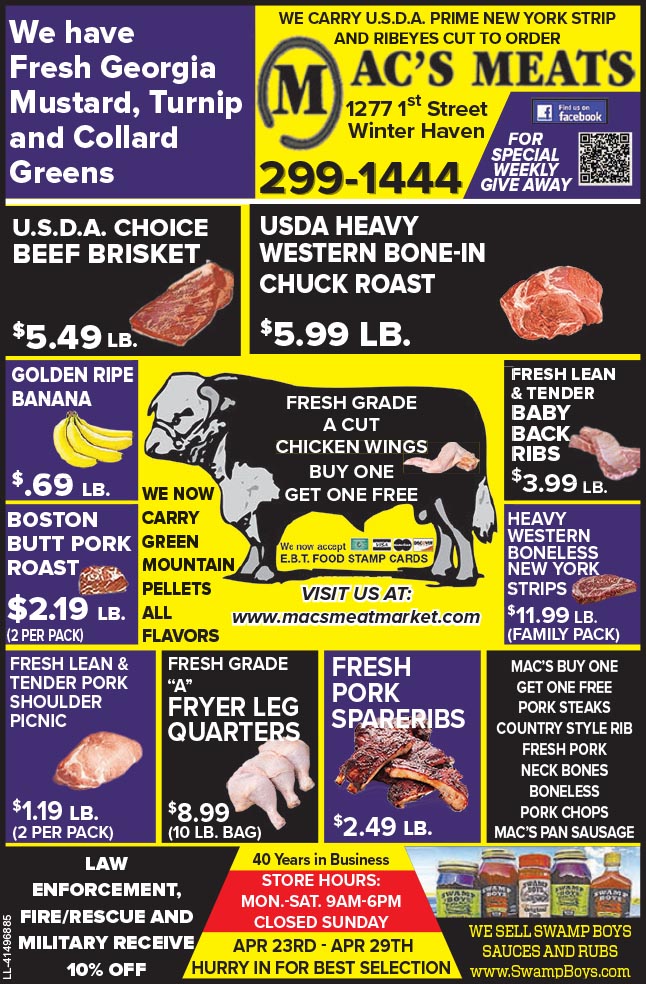 Mac's Meats & Produce
1277 1st St S, Winter Haven, FL
(863) 299-1444
Come see us soon at Mac's Meats & Produce!